The Partners
French core partners

The National Center for Scientific Research
Website: http://www.cnrs.fr/index.php
Pierre and Marie Curie University
Website: http://www.upmc.fr/en/index.html
Institut de la Transition Environnementale
La ville de Paris
Website: https://www.paris.fr
Agence Parienne du Climat
Set up on the initiative of the City of Paris to help achieve the goals of the Climate Action Plan, the Paris Climate Agency has 90 members and partners. It is a key driving force for the energy transition of Paris, seeking to involve the entire region and assisting with operational projects, particularly the energy retrofit of buildings. By promoting dialogue and debate around these major issues, the APC also helps create a common knowledge base and initiatives to support urban transformation. It brings stakeholders together in an alliance that aims at achieving the energy transition of Paris and combating climate change.
The Paris Climate Agency (APC) aims to inform, advise and assist the Parisians in their efforts against climate change and for an energy transition. APC is the one-stop shop for energy retrofitting of condominiums in Paris; APC energy advisers accompany co-owners in their work on energy efficiency. Since 2013, the Agency is part of the national network of Points Renovation Info Service (PRIS) whose purpose is to inform and advise individuals on energy saving, thermal performance, financial aid, etc…
As a nonprofit and multi-partner organization, the Paris Climate Agency is an operational agency for the energy transition of Paris. APC is working closely with its members by focusing on agile working methods and proximity to all the stakeholders of the ecological transition.
Its missions
To inform, advise and guide the uses to promote Parisians› behavior changes through their habitat, their profession, their consumption habits, their modes of transport, etc…

To mobilize and help professionals and individuals to engage themselves concretely against global warming.

To position itself as the local reference on energy and climate-related topics through workshops, conferences, training, technical notes, etc…
Website: http://www.apc-paris.com
CEARC (Cultures Environnements Arctique Représentations Climat)
On the initiative of the professors Jean Malaurie and Jan Borm, and with the support of the Presidents of the University of Versailles Saint-Quentin-en-Yveline (UVSQ) and CNRS (National Center for Scientific Research), CEARC was created in 2009 as research laboratory (EA 4455) within the Observatory of Versailles Saint-Quentin-en-Yvelines (OVSQ), a component of UVSQ.
Initially called " French Institute of Arctic Studies " then renamed " European Centre for the Arctic " to better include non-UVSQ colleagues, CEARC dedicated itself at first to research in human and social sciences on the circumpolar Arctic (Siberia and the western Arctic, Greenland and Fennoscandia). In 2011, CEARC became one of the first three associate members of the University Arctic (www.uarctic.org), the most important international network of higher education and research for the arctic countries.
Several UVSQ-colleagues from the research centre REEDS realized that they were working on similar topics with complementary methods. Following joint participation in research projects and significant contributions to the teaching in the 'Master of Arctic Studies', the REEDS team "Environment-Sciences-Society" developed a close relationship with CEARC. The team progressively addressed the issue of adaptation and transition as a result of global environmental changes.​
In March 2013, the members of this team, as well as three other members of REEDS, joined CEARC. Since then acronym CEARC was re-interpreted as "Cultures, Environments, Arctic, Representations, Climate".​ (French name "Cultures, Environnements, Arctique, Représentations, Climat").
With the integration of the new members, CEARC built a research team dedicated to addressing the emerging issues of adaptation and transition. In the analysis of these issues, a strong focus is placed on interdisciplinarity and on the study of the Arctic.
CEARC is directed by professor Jean-Paul Vanderlinden.
Its missions
Since the creation of CEARC in 2009,
We develop research activities within multidisciplinary projects that (1) link Human and Social Sciences with Environmental Sciences and (2) address arctic issues

We are involved in research programs at international, national and regional levels

We develop a teaching programme for bachelor and master students that is based on our research activities
Website: http://www.cearc.fr
CIRED (Centre international de recherche sur l'environnement et le développement)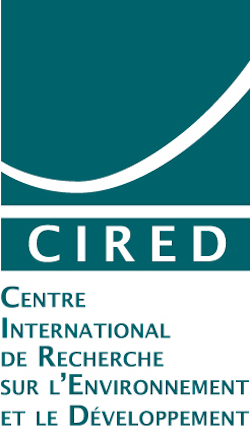 The international research center on environment and development (CIRED) was founded in 1973 by Professor Ignacy Sachs at Ecole des Hautes Etudes en Sciences Sociales. In the wake of the Stockholm conference, the purpose of the laboratory was to study the tensions between environment, long-term resource management, and economic development. At CIRED, Pr. Sachs developed the concept of 'eco-development' as a way of reducing tensions between these variables by playing on lifestyles, technological choices and spatial planning. Today, CIRED is still profoundly influenced by the challenge set up by its founder, i.e., responding to the Club de Rome's thesis about limits to growth by devising strategies that articulate environmental and development goals — better known today as sustainable development.
Research programs conducted at CIRED focus on the relationships between environment, natural resources and development, with focus on three key domains: energy, urban infrastructure, and agriculture and forestry---which imposes a constant dialogue between social sciences, natural sciences and engineering knowledge. To do so, the research team is pluridisciplinary, with people from diverse intellectual backgrounds, and CIRED strives to preserve a good articulation between forward-looking modeling — viewed as a tool to integrate knowledge stemming from many disciplines — and more qualitative views about regulations, institutions and deliberation processes.
Due to its pluridisciplinary and pluri-thematic nature, several research and high education institutions support CIRED. Today, CIRED is a joint venture (unité mixte de recherche) between five institutions: Centre National de la Recherche Scientifique (CNRS), École des PontsParisTech (ENPC), École des Hautes Études en Sciences Sociales (EHESS), AgroParisTech and Centre de coopération internationale en recherche agronomique pour le développement (CIRAD). 
Since 1998, CIRED has been located on the Paris Jardin Tropical campus. Researchers from the unit are also based elsewhere in Paris, Montpellier and Ouagadougou (Burkina Faso).
Website: http://www.centre-cired.fr/index.php/en/
EIVP (École des Ingénieurs de la Ville de Paris)
L'École des Ingénieurs de la Ville de Paris (EIVP), anciennement Ecole des ingénieurs de la Préfecture de la Seine, créée par arrêté du préfet de la Seine du 13 octobre 1959, est un établissement public local sous statut de régie administrative autonome, dotée de la personnalité morale et de l'autonomie financière, depuis le 1er janvier 2006, relevant de l'article L2221-10 du code général des collectivités territoriales, placée sous la tutelle de la Ville de Paris.
Unique grande école d'ingénieur, habilitée par la Commission des titres d'ingénieur à délivrer le diplôme d'ingénieur - spécialité génie urbain, l'EIVP affirme son positionnement d'école de référence en aménagement et gestion durable des villes dont le développement urbain durable est le fil conducteurs de ses enseignements.
Par son association à l'Ecole des Ponts ParisTech et à la ComUE Université Paris-Est, depuis son cinquantenaire, l'Ecole renforce ses partenariats stratégiques dans un monde de l'enseignement supérieur et de la recherche en constante évolution et de plus en plus concurrentiel. Au plan international, l'Ecole a su diversifier ses 35 accords internationaux en Europe et dans d'autres pays, et conforter ses 21 double-diplômes pour  développer une dynamique interculturelle.
Website: http://www.eivp-paris.fr
I4CE (Institute For Climate Economics)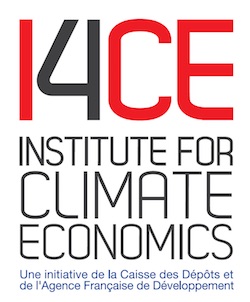 I4CE is an initiative of Caisse des Dépôts and Agence Française de Développement. The Think Tank provides independent expertise and analysis when assessing economic issues relating to climate & energy policies in France and throughout the world.
I4CE aims at helping public and private decision-makers to improve the way in which they understand, anticipate, and encourage the use of economic and financial resources aimed at promoting the transition to a low-carbon economy
I4CE benefits from a large network of partners.
Our action focuses on three research programs, addressing the issues faced by economic sectors in the energy and climate transition:
Industry, Energy and Climate: understanding policies for the low-carbon transition in the industry and energy sectors

Territories and Climate: identifying and analyzing courses of action in the fight against climate change  in the agriculture and forestry sectors as well as urban areas.

Finance, Investment and Climate:  highlighting and analysing the mainstreaming of climate change into financial decision-making by public and private entities
Website: http://www.i4ce.org
iEES Paris (Institut d'Écologie et des Sciences de l'Environnement de Paris)
General objectives :
Analysing and modelling the structure, functioning and evolution of ecological systems for predictive ecology and environmental sciences.
Contributing to innovation in sustainable management of biodiversity, ecosystems and biological resources and to development of global change adaptation strategies
Educating on recent advances in ecology, environmental sciences and ecological engineering. 
Understanding to predict :
iEES Paris has a wide range of expertise in virtually all areas of ecology, from population dynamics to ecosystem ecology, through the processes of adaptation, microbial ecology and ecology of social organisms. It is also one of the first French poles in science of soil and water, particularly recognized for its expertise on biogeochemical cycles, physics and soil biology, the dynamics of watersheds. Last, it develops very original works in sensory ecology, focused on environmental physiology, neurophysiology and genomics of insect olfaction in the context of global changes.
iEES Paris uses a variety of methods : mathematics, statistics, long-term observations, field experiments, experiments in controlled conditions, isotopic chemistry, molecular biology. The modelling of ecological systems at various scales of time and space is performed in all teams as a tool for synthesis and concept development, and a tool for the prediction of environment evolution. 
Understanding to act :
iEES Paris contributes to the development of innovative tools and strategies for the rehabilitation of degraded environments, environmentally sustainable management of biological resources and ecosystem services, and adaptation to global changes. It establishes short and medium term partnerships with public authorities, private companies and non-governmental organizations. It promotes interdisciplinary research within permanent transversal programmes.
Ecological engineering: Using ecological theory and the latest results of research, iEES Paris works on the ways to better control natural and artificial ecological systems in order to improve their performance and durability. It develops indicators of ecosystem quality as a tool for decision-making and evaluation of environmental management. The research focuses on biodiversity as a major determinant of the characteristics of the environment.
Urban ecology: The urban lifestyle has become the dominant way of life of human beings. iEES Paris works on cities, suburban and impacted rural areas by applying the current concepts and methods of ecology. The objectives are to better understand the functioning and dynamics of the urban environment, to promote a more sustainable and efficient management of living organisms and ecological processes in cities, and to bridge the gap between ecological constraints and energy, economic, social and cultural constraints in the city of tomorrow.
Environmental and ecological risks in the South: The iEES Paris staffs have a long tradition of collaborative research in southern countries, especially in Africa and Asia. They assess the impact of human activities on the environment, natural resources and human health, and they participate in research projects on the alternative management of ecological systems and the rehabilitation of degraded environments. They also study the likely impacts of climate change, loss of biodiversity and pollution on the quality of environment and ecosystem services and contribute to the development of adaptation strategies.
Evolution and functioning of systems: One of the great challenges of modern ecology is to assess the relative contributions and interactions between ecological processes acting in relatively short-term and evolutionary processes acting in medium and long terms in the response of ecological systems to local and global changes. iEES Paris has the basic skills to tackle this issue and conduct collective research projects, mainly through modelling and experiments in controlled conditions.
Website: http://ieesparis.ufr918.upmc.fr
LADYSS
The Laboratory of Social dynamics and spatial reconstruction (LADYSS) is a multidisciplinary UMR (Mixed Research Unit) located in 4 university sites (Paris 1, Paris 7, Paris 8, and Paris 10). Associated with two Institutes of CNRS (National Centre of Scientific Research), the Institute of Human and Social Sciences (INSHS) and the Institute of Ecology and the Environment (INEE), Ladyss is dependent on two sections of CNRS (39 and 36) and 3 sections of CNU (National University Centre) (19, 23 and 24). It was created in 1997, after the fusion of two laboratories, each representing a different discipline : sociology (GRMSE, H. Mendras and M. Jollivet) and geography (STRATES, M. Rochefort and N. Mathieu). The present affiliations of these members cover numerous disciplines in Human and Social Sciences.
Let us recap on what the objectives of LADYSS looked like in 2007. Cross-analyses of social dynamics and shifting spatial patterns : one of our key research focuses inherited from the groups of researchers who founded the institute (GRMSE and Strates) and a shared goal of teasing out the links between territorial dynamics and social transformations. The idea that brought together researchers from different disciplines – geography, bio-geography, sociology, anthropology – was to analyse territorialisation processes of both individual and collective action broken down into a study of a world-system and day-to-day existence composed of local issues, via research objects that are especially representative of the transformation of contemporary societies, such as those of the environment.
This idea, which underpinned many of our research projects from 2007 on, was given renewed impetus by the IT revolution and the increasing importance of virtual worlds : reaffirmation of the importance of materiality and "naturalness" of territories and objects in forging social ties. This reaffirmation was grounded in a solid methodological basis : interdisciplinarity figured – and still figures – among LADYSS researchers' key preoccupations and is one of its members' identifying markers. Being a member of LADYSS is in some ways accepting to be part of this interdisciplinary challenge, both internally, between researchers in the human and the social sciences, and externally, between researchers in the human and social sciences and those in the social and physical sciences.
Consequently, those conducting research into the importance of territorialisation in processes of change have much to say to stakeholders on the ground about how they fit into the wider scheme of things. For removed from the restrictive dichotomies of research, its long timeframes and bases of representation on the one hand, and action, urgency and the channels for circulating scientific expertise on the other, such a meeting attributes great importance to "hybrid" moments, i.e., those that draw upon various different registers of research and action. 
These meetings are of a hybrid nature for a number of reasons : 
stakeholders encountered in the territories help formalise and sometimes structure data via concepts or modi operandi that emerge from their increased frequentation of the territories so that researchers borrow from stakeholders as much as stakeholders need researchers ; 

considerable importance is attributed to local know-how ("participative science", "street science") in the production of science which modifies the content in epistemological terms. Obviously, these developments give renewed significance to science-society debates as well as to the role of science in society ;

from this perspective as well, the traditional presentation of how science actually works (inductive or deductive) – theoretical and conceptual framework, problems and assumptions being challenged, definition of investigation methods and techniques, analysis and discussion, return to a theoretical and conceptual framework – is partially set aside in favour of iterative approaches and increasingly numerous meetings with stakeholders in the field with a view to formulating the hypothesis in question or debating the findings of the analyses.
LADYSS' new project has four main research axes. The first concerns globalisation : "Socio-spatial recomposition in globalization". The second is bound up with "Everyday territories : representations, practices and projects". The third is entitled "Environment and development : towards a new paradigm ?" and the fourth : "Health issues and territories". The research teams in charge of these four axes are located at different sites and also have links to a number of different doctoral schools. These diverse links are a big plus for LADYSS' project and represent both disciplinary and institutional diversity that make it way more than just a collection of individuals. It is precisely this diversity that helps forge scientific cohesion. The transverse approach "Science-society relationships through field tests" has been devised to create a high point during the year in terms of a collective dynamic.
Website: http://www.ladyss.com
Agence régionale pour la biodiversité 
Créée en 2018, l'Agence régionale de la biodiversité en Île-de-France (ARB îdF) est le fruit d'un partenariat fort entre la Région Île-de-France et l'Agence française pour la biodiversité (AFB), avec l'Institut d'aménagement et d'urbanisme d'Île-de-France (IAU îdF) comme opérateur et le soutien de l'État et de l'Agence de l'eau Seine-Normandie. L'ARB îdF constitue une plateforme de coopération renforçant les missions de services publics de ces organismes.
Website: http://www.arb-idf.fr